CLEARSHIELD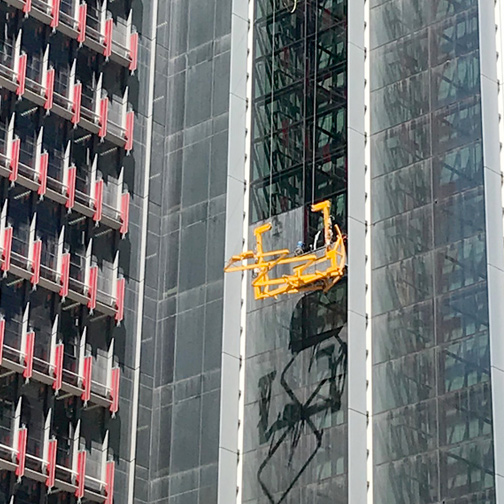 Just as metal rusts, glass is subjected to a corrosion process caused by reactions between the glass surface and atmospheric pollution. The combination of moisture (eg. rainfall and humidity) and alkalinity (eg salt air, cement dust and concrete run-off) can etch or dissolve the surface of the glass making it appear dull or light grey in appearance.
Also, the surface of glass is not smooth and consists of microscopic peaks and valleys, and dirt, both organic and inorganic fill these, chemically reacting with the glass while bonding to the surface and making cleaning of the glass increasingly difficult.
The result of this is Problem Glass



CLEARSHIELD ECO: THE IDEAL SOLUTION
The ClearShield Eco-System is comprised of time-tested products developed and manufactured by Ritec International www.ritec.co.uk for:
Renovation - bringing problem glass already installed back to its "as-new" appearance when all else fails.
Protection -converting the surface of ordinary glass into ClearShield Eco-Glass to help retain the original ease of maintenance, clarity and sparkle of the glass.
Maintenance, - a simple and environmentally friendly after-care programme allows for ClearShield Eco-Glass to perform for the life of he glass
HOW CLEARSHIELD ECO WORKS
ClearShield is a polymeric resin that uniquely cross-links with itself and the glass to form a strong chemical bond that gives the glass both high performance protection and durability, upgrading it to ClearShield Eco-Glass. ClearShield is completely transparent, chemically inert, non-hazardous, will resist staining and is UV stable. Unlike a coating, ClearShield becomes part of the glass so it will not peel, discolour or crack
Working like "non-stick" cookware, ClearShield prevents contaminants from bonding to the glass surface and limits further damage caused by corrosion and chemical attack. Cleaning is now easier and less frequent, without the need for harsh abrasives or methods - as well as saving time and effort.

ClearShield's versatility means it can be applied onsite for glass either prior to or after installation, or in the factory on new glass. Glass protected with ClearShield in the factory can save time and money during the construction of a building. Splatter from concrete, plaster and mortar, for example, can all be removed from ClearShield Glass, so costly glass replacement and lengthy delays as a result are avoided.
WHO USES CLEARSHIELD ECO?
The ClearShield Eco-System has been used on internal and external glass on a vast range of applications, including new and existing high-rise buildings, houses, shops, offices, hospitals, restaurants, hotels, theme parks, railway stations, airports, ships, car washes and PV Solar Panels
The Hi-Tec group have the staff and experience to tailor facade systems to the clients' specific requirements, meaning that while no two facades are never the same, the end result will always be of the highest standard as evidenced by the warranty provided on project completion.
THE BENEFITS OF CLEARSHIELD ECO
Always easier to clean and keep clean
Stays cleaner for longer
Resists staining and discolouration
Return on Investment
For glass manufacturers, processors and fabricators that supply glass protected with ClearShield to its customers, Hi-Tec offer a comprehensive package:
Added value system to help increase sales and profits
A technology that has proven its claims with more than 30 years experience worldwide
Unique Selling Points to differentiate from competition
A system that offers personalised solutions to all glass users
Safe and non-hazardous products
Versatile methods of application that can adapt to all volumes of production
Unique renovation solutions for already installed glass
Local supply, training and subsequent sales, marketing and technical through international network of distributors
Effective demos for the sales force, showrooms and trade exhibitions
GLASS RENOVATION AND PROTECTION
Hi Tec Glass PL have been at the forefront in the renovation and protection of glazing in the high rise and commercial property sector Australia wide for more than 25 years using the ClearShield Eco-System from Ritec Uk Ltd.
Our clients, including all the major builders and facade installation companies have benefited from having ClearShield applied to their glass during the construction period prior to installation. ClearShield forms a protective barrier from the effects of Alkaline Etching, which is the chemical reaction often produced on the glass surface due to the combination of moisture and alkalinity, most commonly from concrete spills or concrete dust washing through the weep-holes in the framing.
ClearShield can be applied in the factory, on-site prior to installation or in-situ at the completion of the construction.
Hi Tec offer a complete range of specialist renovation products that are effective on all types and levels of contamination, be it organic or inorganic, for glass already installed. Renovation products are also used in the surface preparation of glass prior to the application of ClearShield. Hi Tec renovation products remove staining without the need for abrasives or harsh chemicals, so they are not only safer to use but kinder to the environment.
Whilst we recommend they only be used as part of the complete ClearShield renovation and protection system the renovation products can be used as a stand alone solution to attaining an "as new" look to glass, but will not offer the ongoing protection that a final ClearShield application will.
By following a simple and environmentally-responsible After Care programme, ClearShield Glass will perform like new for longer. A range of After Care products is available to provide end-users all they need to maintain optimum performance of ClearShield protection.
Glass Stain Removal
Hi Tec Glass PL have a strong track record around Australia in the removal of Alkaline Etching from new constructions where there has been no protection coating on the glass, plus we also carry out renovation works to existing buildings for Property Management companies and come recommended by a number of Facade Engineers.
Commercial Clean Downs
Hi Tec Glass PL have been carrying out facade cleandowns at the conclusion of the construction stage for many years now and have extensive experience in all aspects of height and difficult access works.